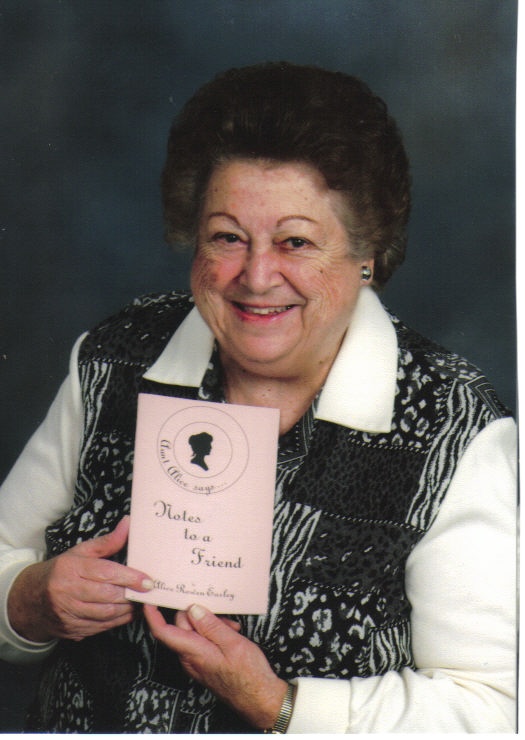 About the Author
Alice Rowen Easley has written newspaper columns, books, and historical accounts of her life growing up in the small town of Demotte in northwest Indiana. Her book "Aunt Alice Says...Notes to a Friend" was recommended for insertion in the Indiana history section of the Purdue University Memorial Library by Purdue President Emeritus Dr. Martin Jischke.
"The Adventures of Corky Rabbit" is the first children's book by Mrs. Easley. She survives her husband Jack with whom she raised four children, and has enjoyed living in her current home in Carmel Indiana for over 30 years.

Book Reviews

Here is a reader review from Karen N., a long time tutor of grade school children. "As a tutor I have read hundreds of children's books, and The Adventures of Corky Rabbit is up there at the top of my list! I find it to be a book for all ages. Adults will enjoy the stories as they read them to a young child, or read them with an older child. The book is a vocabulary builder, and parents can discuss the life lessons Corky learns in each episode. It is a wonderful teaching tool, and I believe children will enjoy the stories over and over again."

Lilly P. says "I am 11 years old. The book is wonderful and I didn't want it to end!"

Leanne J. writes "Corky is an adorable rascal and I thank you for introducing us."

Janet B. says ' You have no idea how much we will treasure this book!"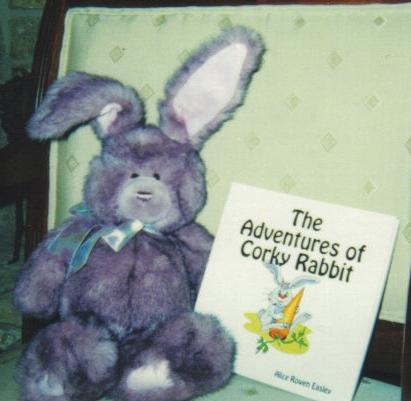 Edited and Published by GoldHat Music
Copyright © 1992, 2008 Alice Rowen Easley
82 Pages, 20 Episodes


An Excerpt from Episode 6
"Corky Rabbit Makes a Wish"

"I didn't mean to do it, Papa. I just wanted to play in the glen."
"What did you do, Corky?"
"I wished very, very hard that it would NEVER, EVER rain again, NEVER, EVER!" cried Corky.
Papa pulled Corky onto his lap. "Well son," he said, "before you make a wish, you should be sure it is what you really want, and you should be sure it will make, not only you, but others happy. A long time ago Grandpapa told me this very thing happened when he was a youngster, and many families had to leave the glen. We might have to do the same thing," said Papa as he carried Corky down the stairs.
Later, Corky Rabbit, whose right ear hangs down at a most peculiar angle, strained to hear a night sound. It was soft at first, and then it was a definite pitter-patter. "RAIN!" called Corky Rabbit as he bounced out of bed. "RAIN!"
All the rabbit families rushed to the glen where The Frisky Young Rabbits danced and sang, and the Mamas and the Papas gave thanks to Mother Nature, and where Corky Rabbit promised he would never make such a selfish wish again.